Meet Mark, he recently visited Venturi Cardiology. He booked in for a consultation and went on to have three different heart tests. Today he explains what happened.
"There is a strong history of heart disease in my family. My dad died of a heart attack aged fifty-three and my Grandad also very sadly passed away from a heart attack at aged fifty. It has been a long-standing joke between my wife and me that I am unlikely to have a midlife crisis because I will probably not make it to fifty. This was funny when we were twenty-five but approaching forty-five, it suddenly became a lot less funny. My job was stressful and when I started to experience mild chest pains, I knew I had to act fast and get checked.

"I booked a consultation with Venturi Cardiology online, using this link. I had the choice of a consultation via video link or in person. I chose to go into the clinic. Booking was very straight forward and the consultation cost me £175. Once I had booked, I received a helpful email explaining where I needed to go and how to prepare for the appointment. I felt apprehensive and I think I expected bad news. However, the team at Venturi really put me at ease and were very happy to answer any questions I had."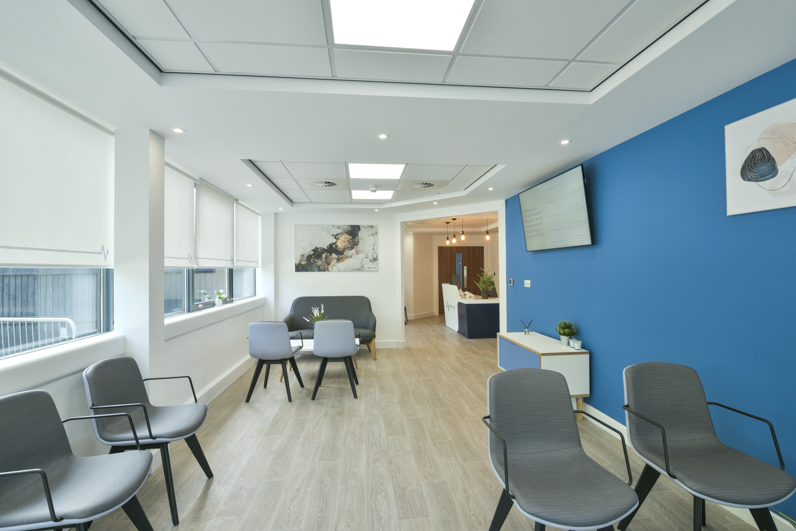 What happened on the day?
"Venturi is based in Warrington, just off the M6 and M62 which was great for me as I live in Manchester. There is plenty of free parking outside and I was able to walk straight in. The clinic doesn't seem like a hospital or like any other health care place I have visited to date. It is very professional, warm, and friendly. It sounds stupid, but I hate going into hospitals, but this was totally different, it actually felt reassuring, not scary!

"On arrival, I was offered a drink and then taken through to one of the consulting rooms to meet with Dr Tom Heseltine. He was fantastic. He asked me lots of questions about my family history, my lifestyle, and the symptoms I was having. Many moons ago, I used to smoke, and I had to admit to drinking more units a week than I should, but he wasn't judgemental. I then had an examination. This included measuring my weight and height, listening to my heart and taking my blood pressure. Dr Heseltine asked me to roll my sleeve up so he could take my blood pressure and take my pulse, but otherwise I remained fully dressed throughout.

"Once he had all the information he needed, Dr Heseltine said that I really needed to have an ECG,  point of care bloods and the calcium score test. He said I could be referred into the NHS to have all the diagnostics, or I could have them there and then at the clinic. I decided to book the Venturi Lite because I didn't want to wait. This package costs £550 and includes all of the tests I needed, as well as a follow up discussion with Dr Heseltine to look at the findings and make recommendations. Amazingly, because at Venturi they have all the equipment onsite, I was able to have all these diagnostics straight away, following my consultation. The cost of the consultation was also deducted from the package price, so I didn't pay twice (as the Venturi Lite also includes an initial consultation)."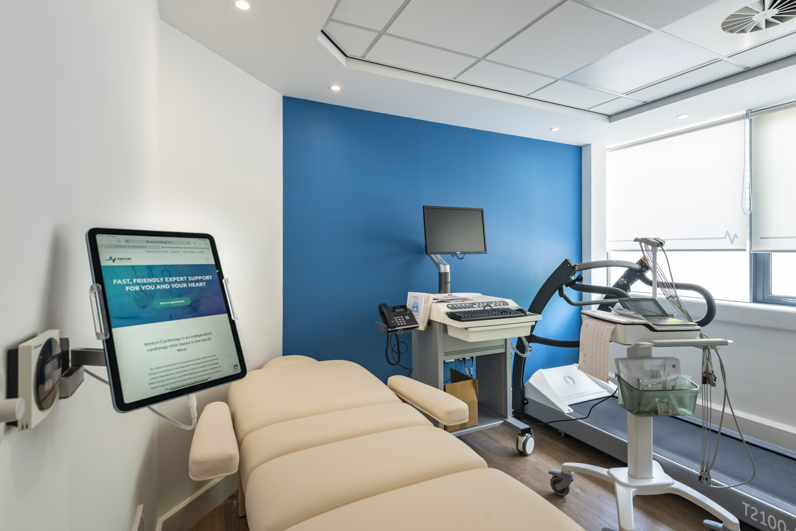 What happened next?
"I was taken straight through into one of the diagnostic rooms, where a healthcare assistant took some blood from my finger. This was quick and painless. She reassured me that, because Venturi has the testing facilities onsite, I would get the results straight away. She then asked me to remove my shirt and she attached ten small stickers to my body – six on my chest, two on my arms and two on my legs. This was all completely painless, and she was great, explaining what she was doing every step of the way.

"After that I popped back into see Dr Heseltine. He explained exactly what the calcium score test is and why I needed to have it. He told me that I was going to be exposed to a very low level of radiation but that this exposure was much less risky than potentially having heart disease. He unpacked the test, what I could expect and what it all meant, and I was able to ask questions.

"I was shown into a changing room and asked to remove all the clothes on my top half. I was given a gown. It all felt very relaxed. I went into the CT scanning room via another door, off the changing room, so I didn't have to walk through the clinic in my gown. The radiographer greeted me and asked me to lie down on the CT scanner and remove my gown. Small electrodes were again attached to my chest. I was worried that the scanner would be like a big tunnel that I would have to go into, but in fact, it is open, with just a circular donut shaped piece that moves over your chest. Whilst this is happening the radiographer is in another room, but she could see me through the window, and she reassured me that she could hear me, and I should tell her if I had any concerns at any point. The whole scan took about 15 minutes.

 "I was a bit worried that I might be cold, but the room was warm enough and I was offered a warm drink straight after the test."
"I was asked to get dressed and to take a seat in the waiting room whist Dr Heseltine reviewed my results."
What happened after I'd had the tests?
"Dr Heseltine then asked me to come back into the consultation room. By this point I was feeling nervous, expecting the worst. Dr Heseltine was immediately reassuring, the said straight away that my heart was in great shape. He talked me through all the results and happily the calcium score test had shown that I have no plaque at all in the arteries around my heart. I was given a calcium score of zero – the best result you can get. I cannot explain how relieved and elated I felt. He then talked me through a few lifestyle changes that I might want to consider, reducing my alcohol intake and increasing my exercise. He recommended that I come back for another calcium score test in five years, just to check that no calcium deposits or plaque have developed, but other than that I could leave with a clean bill of heart health."
What happened after I left the clinic?
"Two days after my appointment I received a full written report and letter from Dr Heseltine. It explained the tests that I'd had and the results. This letter was also copied to my GP. The entire process from start to finish was efficient, professional, and reassuring. I would recommend Venturi to anyone with any heart concerns. Don't bury your head in the sand. Be brave and go and find out what is going on inside your body. Knowledge is power. And, if your results are not as comforting as mine were, there are things that can be done: lifestyle changes you can make, medication or even treatment that might be needed."